Batteries
Your vehicle needs power. No one likes to deal with a weak or failing car battery. Keep your vehicle running strong with the right one! Learn more about the car batteries we offer at Young's Lubricants.
Ready to place your battery order? Give us a call or click the button below to fill out our contact form.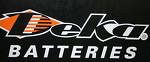 Located just 20 miles from John R. Young & Company, East Penn Manufacturing operates a 520-acre facility where the company produces Deka Batteries. Using state-of-the-art, environmentally conscious production facilities, Deka manufactures car batteries, as well as batteries for a diverse array of applications, ranging from trucks to RVs to wheelchairs. Since the company's beginnings in 1946, East Penn Manufacturing has set its stamp of quality and innovation on each and every Deka Battery.
Click here for more on Deka Batteries