Shell Lubricants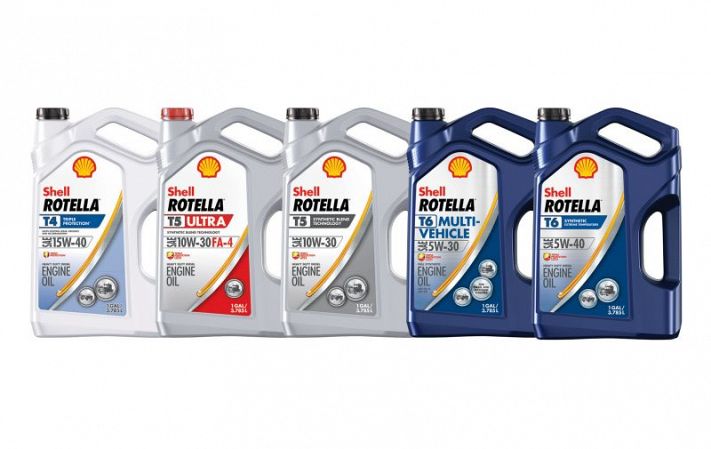 Shell is a global company distributing numerous petroleum products. Among the company's many specialties, Shell is a producer of high-quality lubricants. As Shell distributors, John R. Young & Co. is proud to supply our customers with Shell lubricants. Shell lubricants includes the following product lines: Spirax, Tellus, Gadus, Omala, Corena, Morlina, Mysella, Rotella, Rimula, and Formula Shell.
Shell industrial lubricants include: Tellus Hydraulic Fluid, Omala Industrial Gear and Bearing Oil, Corena Air Compressor Oil Spirax Axle and Transmission Oils, Tellus Hydraulic Fluid, Gadus Marine Grease. Shell automotive lubricants include: Omala Industrial Gear and Bearing Oil and Corena Air Compressor Oil, Morlina Marine Bearing and Circulating Oil, Mysella Stationary Gas Engine Oil, and Rotella Engine Oil.
Shell transport lubricants include Rimula Truck and Heavy Duty Engine Oil, Spirax Synthetic Gear Oil Rotella Heavy Duty Engine Oils and coolants. Click here to learn more about the Shell brand.
Click here for Shell Lube Match to find the right oil for your needs.
Shell Transport Lubricants
Shell's transport lubricants are crucial to keeping your vehicle on the road as safely and consistently as possible. Shell services a wide range of transportation roles. Shell products are useful in fleet shipping, owner-driver shipping, bus and coach transportation, construction, agriculture, railroad, and mining, quarry, and cement operations. John R. Young & Co. is proud to distribute Shell's Rotella and Rimula lines for specialized, heavy-duty diesel engine care.
Fleet
Shell can help lower your cost per mile.
Bus & Coach
Your customers depend on reliable services. Shell offers cost-effective solutions to achieve their satisfaction.
Construction
Depend on Shell to keep machinery ready for you when you need it.
Agriculture
Continue to grow your business with Shell.
Owner Driver
Shell's services can protect your truck and livelihood.
Railroad
Continue business on track with Shell's support.
Mining, Quarry & Cement
Regardless of operating conditions, Shell's products can work through the toughest environments.
Shell Industrial Lubricants
Shell industrial lubricants serve a range of industries, including food and beverage, power generation and transmission, metalworking, and manufacturing. For more information on Shell's many industrial solutions, click here.
Food & Beverage
Enhance your facility's operation with food grade lubricants from Shell.
Power Generation & Transmission
Shell can meet the needs of the Power industry with a broad range of industrial lubricants.
Metalworking
Shell provides a widespread line of metalworking maintenance services and fluids.
Oil & Gas/Petrochemical
Shell offers unsurpassed protection for Natural Gas business with industry-specific lubricants.
Manufacturing
Enhance your operation with approved fluids and greases.
Pulp & Paper
Pulp and paper prices are unpredictable, and we appreciate creating and maintaining a competitive advantage within the industry.
Shell Automotive Lubricants
Shell continually applies its scientific ingenuity to develop more clean and effective automotive lubricants. We are proud to carry Shell's products for all your automotive needs. To learn more about Shell's automotive lubricants, click here.
Shell Services
Value-Driven Solutions - Shell Products PLUS Services delivers value-driven solutions for industry that are designed to increase efficiency and improve bottom-line performance. To learn more about Shell services, click here.
Shell LubePlanner
After reviewing plant operating conditions and equipment, Shell can develop a customized lubrication program for your facility.
Shell LubeExpert
Avoid premature equipment failure with in-depth fluid and equipment analysis to identify any insufficiencies.
Shell LubeAnalyst
Obtain precise measurements of equipment conditions and oil levels.
Shell LubeReclaim
Work with localized specialists to deliver fast, dependable service at your facility.
Shell LubeVideoCheck
Obtain an interior view of engine components without dismantling the engine itself with state-of-the-art digital fiber optics.
Shell LubeEquipment
Receive Shell-negotiated equipment pricing through our partnership with American Lubrication Equipment Corporation.
Shell Fleet Management Program
Discover our new and exciting service on managing your fleet by talking with Shell experts.
The Ecobox System
One product that we highly recommend to fleet managers and auto maintenance facilities is the Shell Ecobox. This will help you store, manage, and deliver oil more efficiently, and with less plastic waste than using conventional quart bottles. The Shell Ecobox System will help you store, manage, and deliver oil more efficiently, and with less plastic waste than using conventional quart bottles.