Diesel Exhaust Fluid
Diesel exhaust fluid is a liquid used to reduce the amount of air pollution created by a diesel engine. Specifically, it is a non-toxic, high purity solution comprised of 32.5% urea and 67.5% de-ionized water. Using this fluid in diesel-powered vehicles, such as trucks, buses, and tractors, helps reduce the amount of nitrogen oxides (NOx) emitted into the air by 90%.
Young's Lubricants offers a variety of choices for your Diesel Exhaust Fluid needs. We are committed to promoting products that care about the environment. Our two most popular diesel exhaust fluids include BlueDEF and Brenntag DEF. Learn more about them below, or contact us today to order yours.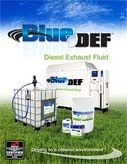 BlueDEF
WHAT IS BlueDEF™?
BlueDEF (Diesel Exhaust Fluid) helps a diesel-powered car or truck reduce emissions and improve fuel economy. BlueDEF is a mixture of 32.5% high purity synthetic urea and 67.5% deionized water that is used in Selective Catalytic Reduction (SCR) systems on diesel engines. DEF is the primary ingredient used to help convert NOx to harmless nitrogen and water.
BlueDEF is stable, colorless, non-flammable, non-toxic, and is classified as minimum risk for transportation. BlueDEF conforms to the ISO-22241-1 specification for DEF, is API registered and meets or exceeds OEM specifications.
BlueDEF Handling & Storage
The shelf life of DEF is directly related to the temperature at which it is stored. Storage temperatures between 12° and 90° F are recommended to maintain optimal shelf life of up to two years. If BlueDEF freezes, its efficacy will not be affected upon thawing.
To maintain the purity of DEF and not harm the SCR Catalyst System, care must be taken regarding the material of construction for all items that come in contact with the DEF solution. Included from the ISO-22241-1 standards are the recommended and not recommended materials for contact with DEF.
Does and Don'ts for Proper Use of BlueDEF
Do fill DEF in designated DEF Tank
Do keep DEF dispense equipment clean, and free from dust or dirt
Do use only dedicated DEF equipment when handling/dispensing DEF
Do not fill DEF into Diesel fuel tank
Do not fill Diesel fuel into DEF tank
Do not add water to DEF

Brenntag DEF
Brenntag offers UltraPure® Diesel Exhaust Fluid as a solution for a wide array of equipment and applications including retail, commercial, and fleets. To learn more about Brenntag products, click here.

Musket DEF
Musket handles billions of gallons of crude oil, NGL, natural gas, petroleum products, renewable fuels and DEF every year and continues to grow. To learn more about Musket products, click here.