Gulf Lubricants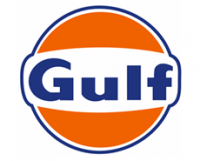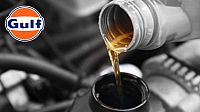 About Gulf Lubricants
A Century In The Making
Since 1901, Gulf has been a globally recognized brand trusted by millions of people worldwide. This consistency and enduring success would not be possible without the relationships they've built and sustained over the years. Gulf oil distributors such as John R. Young & Co. are proud to supply our customers with Gulf lubricants for automotives, agricultural equipment, industrial machines, marine vessels and more. Gulf full synthetic oil is high quality, and specially designed for a multitude of uses.
"Since we first struck oil in Spindletop, Texas, USA in 1912, we've put our heart and soul into building a brand with a legacy worth remembering. We put our all into our products, ensuring that the Gulf trademark became synonymous with quality you can trust. We built partnerships that stood the test of time, making Gulf a staple in culture and performance, and we did it all with our proud customers in mind, allowing us to reach millions of customers around the world." We are proud to be your trusted Gulf oil distributor, feel free to contact Young's Lubricants with any questions.
Gulf Automotive Lubricants
Gulf oil and lubricants are designed for a wide variety of automotive applications. Gulf lubricants product line include driveline fluids, engine fluids and more. For motorcycles and scooters we supply...
Car
Engine Oil
Whatever your particular needs, from car care to engine oil, we have the right product for your car. Our products meet and exceed the requirements of leading industry bodies including the American Petroleum Institute (API), the European Automobile Manufacturers Association (ACEA) and leading global OEMs. Make sure your car is running smoothly, mile after mile with our comprehensive selection of passenger car motor oils. Gulf formulations provide enhanced protection from wear and deposits to ensure engine durability, improve fuel economy, and reduce CO2 emissions. Whether you're driving a Volkswagen, BMW, Mercedes-Benz, Porsche, General Motors, Renault Volvo, Ford, Jaguar….or any other vehicle brand, Gulf has an oil suitable for your car.
Driveline Fluids
Whether you're driving cross country or just around the block, our comprehensive range of driveline fluids has something to suit every need. From mineral-based standard products and advanced synthetic fluids with specialized additives, enjoy smooth gear shifting, improved fuel efficiency plus extra protection from rusting and corrosion for maximum performance in any climate or terrain!
Other Fluids
Keep your car running optimally with our powerful brake fluids and radiator coolants. Our selection of products are designed to stand up even against the most extreme driving conditions; From scorching heat to icy cold weather, for maximum safety on every road you travel. With specially formulated performance additives that protect braking systems, these specialized liquids keep engines at an ideal temperature all year round; helping avoid inconvenient breakdowns or costly repairs in the long-term. Drive ahead confidently!
E-Fluids
Discover a revolutionary line of E-Fluids designed specifically for electric and hybrid cars! Gulf's innovative blends deliver peak performance, while slashing CO2 emissions to shrink your environmental footprint with increased fuel economy.
LEARN MORE
---
Motorcycle & Scooter
With our specially formulated portfolio of motorcycle oils by Gulf, your days on the road are sure to continue with confidence throughout any weather condition. From blazing summer suns and chilly winter winds, we've got you covered! Gulf lubricants promise superior protection for your engine's long term performance; no matter what Mother Nature throws at you. Young's Lubricants offer a variety of motorcycle and scooter oils and lubricants including Gulf Power Trac and Gulf SynTrac.
Gulf PowerTrac - If you're not getting the performance you desire and deserve from your motorcycle, try one of our oils. Gulf PowerTrac has been specially developed to keep engine temperatures at bay (up to 150°C) so that damaging deposits don't build-up in order for your motorbike experience to remain smooth ride after ride!
Gulf Syntrac - For optimal performance on race day or those long mountain rips, select Gulf Syntrac. Gulf full synthetic oil contains next-generation additives and superior base stocks, which help to protect your engine against deposits that impair performance. Keeping a robust oil film on vital gear and engine components helps to prevent clutch slippage, and ensure continuous performance in high load, high-temperature and high-speed conditions.
---
Gulf Oil understands the importance of keeping you on the road and powering ahead. That's why they've crafted an extensive line-up of commercial lubricants for all types of trucks, buses, and other heavy duty vehicles to ensure optimum driving performance so that your journey is always smooth sailing. From engine oils offering superior protection against wear & tear to greases designed for maximum efficiency in extreme temperatures - our products are as unstoppable as you! Let Young's be a part of your voyage by giving you reliable fuels with exceptional reliability—optimal performance guaranteed!
Avoid expensive repairs and maintenance by using Gulf's advanced gear oils and transmission fluids. Protect your commercial vehicle's transmission system with these industry-leading formulations, which can help reduce friction that leads to wear down over time – letting you get the most out of each mile!
---
Gulf Race Fuels have pushed the boundaries of motor racing for decades, with its brand proudly associated with champions across a range of competitive disciplines. Now it's looking to expand even further by introducing tailored products and services into new markets around the world—including exclusive fuels designed specifically for race cars, single seaters, motorcycles, rallies and historic events. No matter where you go in your quest for speed on two or four wheels...Gulf is there!
---
Get the most out of your fuel with Gulf Nanotec Fuel Additive! From petrol to diesel, and biodiesel to marine-grade gasoline, this time-tested solution helps you reduce emissions while gaining more power, and all without sacrificing efficiency. Plus, it eliminates carbon buildups in combustion chambers while keeping exhausts and engine oils clean; allowing for a smoother ride no matter which type of fuel you choose.
If you own a filling station network or group of service stations, give your customers that extra edge. With Gulf Nanotec Fuel Additive, you can seize the chance to drive up fuel sales. Its premium quality speaks for itself, and you can now get in bulk quantities.
Gulf Agricultural Lubricants
Gulf Oil is dedicated to helping farmers from all walks of life. With a commitment to providing premium lubrication solutions, so that agricultural grease and oils are crafted with the utmost care for maximum efficiency in any farming job. Gulf top-notch products make it simpler than ever before to keep your equipment running smoothly!
Agribusiness is a constantly evolving industry, and keeping up with the latest technologies can be challenging. That's why Young's takes pride in providing dependable lubrication solutions for agricultural equipment that keep it running smoothly under any conditions. Our selection of Gulf's specifically formulated greases are designed to work on a variety of farm machinery such as combine harvesters, tractors and more - allowing farmers and manufacturers alike to get the most out of their technology investments!
Crop Spray Oil for Protection
Gulf's commitment to providing top-of-the-line solutions led to the development of Argenfrut oil, an innovative spray that protects crops from pests. This fast emulsifiable mineral oil is one of the safest and most efficient options on the market: while it eliminates unwanted visitors, its residue free formula preserves produce freshness without any compromise in safety or quality. Demonstrating our steadfast dedication towards customer satisfaction, Young's is proud to offer a reliable resource for sustainable crop protection!
Gulf Transmission Fluids
Without proper protection, your agricultural equipment can quickly degrade and suffer. With the right tractor gear oil, you can keep gears running longer, reducing servicing needs while extending the life of transmissions over extended periods of use; ensuring optimal performance no matter what kind farm work you're doing.
Gulf Hydraulic Oils
Get the most out of your hydraulic system in any condition with Gulf Universal Tractor Transmission Fluid (Gulf UTTF). This one-stop solution meets both tractor transmission and hydraulics requirements, streamlining product rationalization while helping prolong engine life. Keep your inventory low and protect yourself from misapplications; get ultimate reliability for a smoother performance every time!
Gulf Ancillary Products
Young's Lubricants is dedicated to meeting the growing needs of modern agricultural equipment, providing superior products that work harder and last longer. The greases we offer can be used on anything from farm machinery to vehicles and more, perfect for any job a farmer faces! Young's has partnered with Gulf because they emphasize collaboration with customers through innovation in order to ensure successful business ventures across both local and global farms alike. For years we've established meaningful relationships built upon our commitment towards finding creative solutions; now let us join forces together as you explore what lies ahead!
Gulf Industrial Lubricants
Gulf industrial lubricants offer the perfect solution for running any operation that relies on high-performance machines. Gulf's range of metalworking, construction and manufacturing fluids provide excellent reliability at an affordable price, easing machine maintenance workloads while ensuring maximum performance.
From automotive components to agricultural equipment, Gulf industrial lubricants are a trusted choice for all your machine maintenance needs. With their wide range of applications across industries such as General Engineering, Steel and Cement Production, Mining and Construction - they offer the perfect answer to keeping machinery running smoothly.
Minimal Downtime
Proactive maintenance is essential for businesses to reduce downtime, increase productivity, and lower operational costs. Gulf industrial lubricants & fluids provide the perfect solution for high-performance equipment functioning, offering total peace of mind with longer periods between preventive maintenance checks. These products can help extend machinery lifespans while allowing industry professionals to confidently enjoy uninterrupted operations as they strive towards success!
The Gulf Vision
At Gulf, they keep an eye on the pulse of emerging markets to create lubricants that maximize your machinery performance. They collaborate with industry OEMs, and specialize in producing futuristic industrial lubricants for steel, cement mining ACGM construction & metalworking fluids applications, ensuring superior equipment life expectancy while optimizing system output.
Gulf Marine Lubricants
Since 2008, Gulf has been providing the shipping industry with premium-grade marine grease and oil solutions. Through their expansive delivery network of over 1,000 ports in more than 80 countries, backed by 40 blending facilities, it's safe to say that Gulf Oil Marine plays an integral role in keeping vessels moving around the world. Gulf strives for excellence when delivering lubricants; tracking 70K+ ships daily means clients always get optimal recommendations and timely services 100% of the time.
Agribusiness is a constantly evolving industry, and keeping up with the latest technologies can be challenging. That's why Young's takes pride in providing dependable lubrication solutions for agricultural equipment that keep it running smoothly under any conditions. Our selection of Gulf's specifically formulated greases are designed to work on a variety of farm machinery such as combine harvesters, tractors and more - allowing farmers and manufacturers alike to get the most out of their technology investments!
Electrifying Tomorrow
Throughout history, Gulf has been driven toward innovation. Now, Gulf proudly presents the Gulf eFLUID products, which are specially designed for electric and hybrid vehicles. Their new eFLUID range helps to improve fuel economy, reduce CO2 emissions and extend battery life and together with Everrati they are working to improve and build our EV fluids range.
The automotive industry is about to get a historic jolt with the new partnership between Gulf and Everrati. By pairing up classic sports car design with modern electric power, they are pushing towards an even greener future - one in which 32% of cars sold worldwide will be zero-emissions by 2030! To usher in this collaboration, the companies have teamed-up to create the Porsche 911 Signature Gulf Edition: a fully electric vehicle designed for personal use that perfectly blends together history and innovation. The possibilities here go beyond just keeping beautiful pieces of history alive! We can now look forward to more exciting models from this dynamic duo coming soon!
LEARN MORE
Gulf Merchandise
For over a century, Gulf Oil has been at the forefront of innovation in the oil and fuel industry, from pioneering drive-through petrol stations to its range of superior products. Today it is present on five continents, serving millions around the world every single day.
Its iconic orange and blue racing livery harkens back to motorsport's golden age in the 1960s when Gulf raced into public consciousness with pride, an emotion that continues through today via our merchandise offerings for those who wear them.
See all the iconic merchandise that Gulf has to offer including their Tag Heuer line of watches, and high fashion collectables. Shop Here!