Quaker State Lubricants

A Trusted Quaker State Distributor
In 1913, Phinney Brothers Oil Company in Oil City, PA received a call from Franklin Automobile Company of Syracuse asking for a motor oil that would meet the particular lubricating needs of Franklin's vehicles, and Quaker State Motor Oil met the challenge. Since then, Quaker State has continued to improve its products, and now Quaker State distributors provide Quaker State Synthetic Motor Oil and Quaker State Automatic Transmission Fluid are keeping millions of cars running smoothly.
Quaker State is a global supplier, distributed in more than 45 different countries. John R. Young & Co. is proud to supply our motor enthusiasts with Quaker State's fine selection of Quaker State motor oil. From Quaker State Ultimate Durability Full Synthetic Motor Oil to Quaker State Advanced Durability Motor Oil, experience unsurpassed motor protection.
Quaker State is so confident about its quality products and friction-sustaining protection, it issued the 300,000-mile challenge. Meet the Quaker State Hall of Famers
For more information about Quaker State Motor Oils, visit the Quaker State® web site here.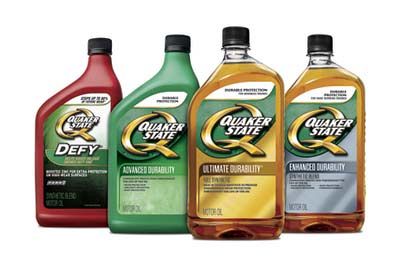 ( Click any of the items below for details. )
* As measured in ASTM Sequence IVA test, using SAE 5W-30 engine oil.
** Comparison based on Quaker State® Advanced Durability™ conventional oil.
*** As measured in ASTM Sequence IVA test, using SAE 5W-30 engine oil. Excludes SAE 5W-40, 10W-60.

Save on Quaker State Oil
Quaker State offers great savings opportunities on your next oil change, whether you choose to do the change yourself, or at a participating location.
Save On A DIY Quaker State Change